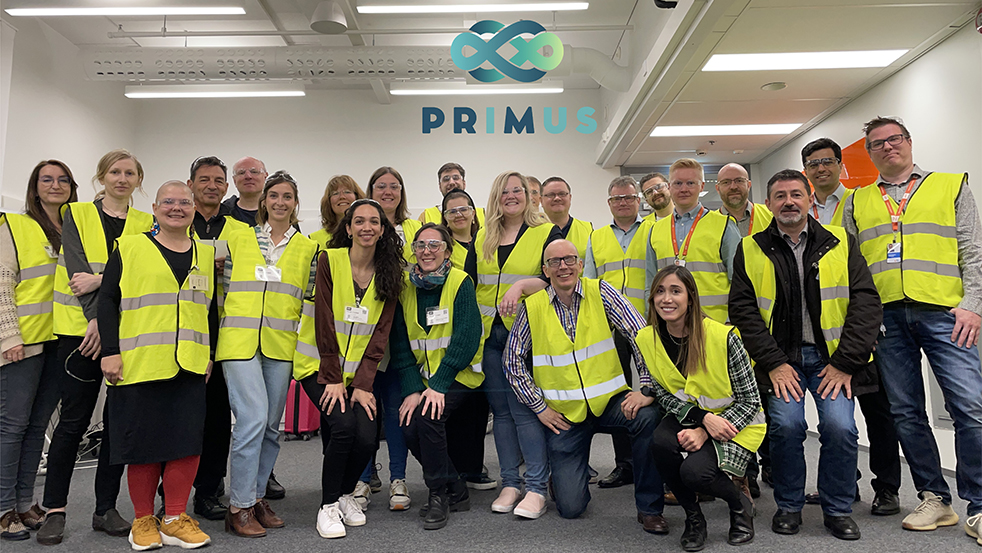 PRIMUS Project – Developing new technologies for plastic recycling and circular economy of plastics
12 European Organisations look into creating new high-tech added value products from recycled polymers
Funded by the European Union, the recently started PRIMUS Project seeks the development of new technologies for the recycling of common polymers so they can be used as starting materials for the manufacturing of new added value products.
In today's European economy, plastics and other polymeric compounds are common raw materials for the manufacturing of all sorts of goods and components. The European manufacturing industry is highly dependent on this type of materials for critical sectors like automotive and aerospace, electronic and electrical equipment like home appliances and consumer electronics.  The European plastics and product manufacturing industry is heavily dependent on virgin fossil-based plastics, and a shift is needed to decrease the dependency of fossil-based resources. Furthermore, it is crucial to keep the valuable plastic materials in circulation instead of being incinerated or landfilled and further contributing to global issues like climate change.
Despite of the big efforts deployed by public and private bodies to reduce the use of this type of materials (e.g., latest EU Directive on Single-Use Plastics) and promote the collection of waste plastics for recycling, up to 29 million tonnes of plastic post-consumer waste was collected in 2020 (EU27+3) of which approximately 30 % was sent for recycling, 23 % landfilled and 40% sent to energy recovery.
Plastics in general are synthetic or semi-synthetic (man-made) materials that consists of polymers as the main material, but also a wide range of different additives to give wanted performance properties to the plastic itself. Plastics cover a very wide range of material types and are used in even a broader range of different products. The materials and value chains are complex, which make it challenging to implement different circular strategies like recycling. For example, to improve recycling outputs, it is important to have high-level separation of different types of materials, remove challenging and/or hazardous additives, and overcome plastic quality degradation meaning changes in the polymer chain and structure. It is important to address these issues and develop new technologies, like we do in PRIMUS, to overcome the challenges and make sure plastic recyclates can be used in higher demanding and added-value products. Currently, plastic recyclates are ending up in a range of lower quality products like outdoor furniture, buckets, traffic cones, carpets, where the technical and safety requirements are lower.
PRIMUS Project will address this issue by deepening in the knowledge of polymer recycling. The Project will create processing and manufacturing techniques with the objective of controlling the quality and safety of the polymer recyclates, so they meet the necessary technical and safety specifications, ensuring they are suitable starting material for the manufacturing of high-quality parts and components. PRIMUS will efficiently focus on debromination methods aimed to be used with mechanical recycling, develop analytical capabilities for easy, robust, and reliant sampling and analysis, sensor-based identification of the degradation degree and develop smart mechanical recycling for optimum quality control. As a highlight, PRIMUS will produce 4 different high-demanding DEMO products for the automotive industry and home appliances sector, one of which is focusing on demonstrating suitability for food contact.
The stakeholders' commitment
A group of 12 European Organisations from research and industry are teaming together for this purpose led by VTT Technical Research Centre of Finland. Other members of the Consortium are; CIRCULARISE (NL), Tallin University (EE), The University of Eastern Finland (FI), GREENDELTA (DE), Plastics Recyclers Europe (BE), COOLREC (NL), MONDRAGON Corporation (ES), MAIER (ES) and CIKAUTXO (ES) with their respective technology centres MTC and CIKATEK.
In addition to the technical and scientific results addressing methods to control the recyclate quality, the PRIMUS Project will be boosting the polymer recycling industry in Europe by engaging the different stakeholders; connecting those who generate the waste with those who can process it, and use it, for the creation of added value products and inducing a new wave of high-quality jobs for the polymer recycling industry in Europe.
This project is supported by the European Union with a 7 million euro grant for the next 3 years from the Horizon Europe Programme through the European Health and Digital Executive Agency (HADEA) under the Grant Agreement No. 101057067.
To keep informed about the news, results, and events you may join the PRIMUS community of stakeholders through the main social media or e-mail info@primus-project.eu.